Young Enterprise - No10 Downing Street
On Tuesday 29th March four of our Year 10 Young Enterprise team were invited to have lunch in 10 Downing Street with one of the Prime Ministers Special Advisers Myles Stacey. At the lunch the girls talked about their experience of taking part in the Young Enterprise Company Programme through Project IF. This was a once in a lifetime experience and the girls did themselves and SJT proud.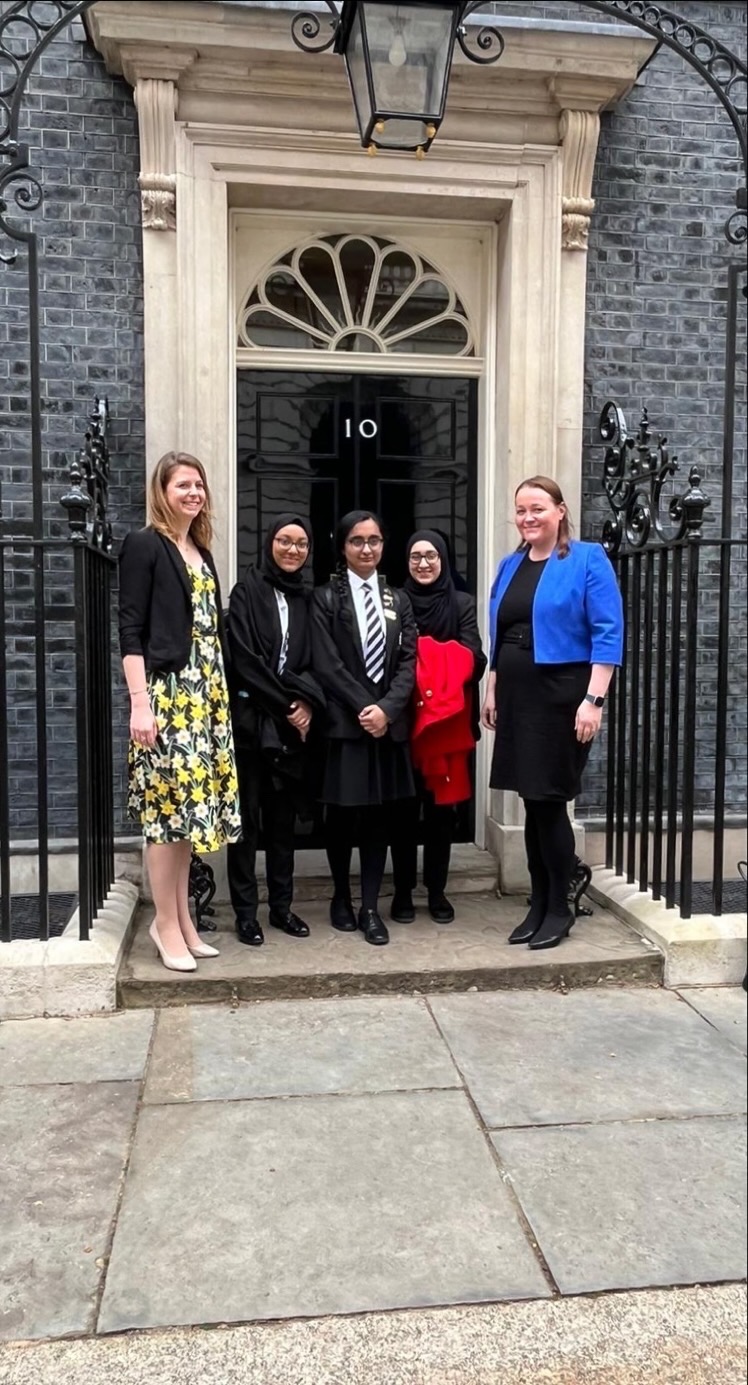 Myles and the Young Enterprise staff were blown away by their confidence, maturity, and ambition. Sally Hopkins, the area manager for Lancashire and National Project Manager for Young Enterprise said "They were confident, professional, intelligent, and simply charming, a fabulous example of how Project IF is making changes to young people's lives and a real credit to Sir John Thursby Community College" Myles Stacey who is a special adviser to the Prime Minister for Levelling Up was keen to find out how the programme had impacted on the students and what more could be done to help more students across the country engage in enterprising projects in the future.
The four girls are part of a team of eleven Year 10 students who have set up the business 'Resin Time' as part of the project. They make and sell bespoke handmade gifts from resin specialising in keyrings, coasters and bookmarks. Their products are very popular and have been praised by costumers for their professional finish and high quality. The business broke even in February and is currently making a healthy profit. In February the team took part in a trade competition at The Trafford Centre competing against other Young Enterprise businesses. They won the award for 'best stall' with judges commenting on the excellent company logo, great products and eco-friendly and eye catching packaging.
The team has also taken part in two Dragons' Den pitches with Young Enterprise judges and the feedback they have received has helped them to grow and improve both their business and their pitching skills. They will be taking part in the Lancashire Showcase at UCLAN in Preston at the end of April where they will compete to go through to the North of England Final.
Project Inspiring Futures (Project IF) is a targeted programme which aims to increase the opportunities for young people to develop key employability skills. The programme supports students to successfully transition from school into work or further education. It is a year-long multi-intervention programme where young people run their own company and receive advice and support from a volunteer mentor.
The programme also includes an Employability Masterclass which offers young people the chance to reflect on the skills they have developed. One of the key elements of Project IF is the chance it gives for young people to develop and apply their skills in a real-world context.
Project IF launched in 2020/21 successfully reaching 35 schools in the North of England. In 2021/22 Young Enterprise have been able to extend that reach to 111 schools across England and Wales with an ambition to further increase in 2022/23 to over 150 schools nationwide.